Odoo ERP Comparison Whitepaper
Microsoft Dynamics, NetSuite, & Odoo

Introducing ERP offers available today
In the last 15 years, new technologies have pushed enterprises both large and small to rethink their process management with respect to the new dynamics created by the changing business landscape. Implementing an ERP is a step many businesses are taking to help organize and optimize the way they do business.
There are many business software offerings currently available on the market, however most are focused solely on the needs of large enterprises. This document aims to give you a good idea of the features offered by the main ERP solutions for SME's, with an emphasis on cloud-based solutions. A cloud-hosted ERP solution offers a number of advantages over a traditional ERP that is installed locally, many of which are especially relevant to small businesses. A cloud-based ERP is often more flexible and able to adapt to a growing and changing business. Most of the time, startup and maintenance costs are much lower as well because they are included in the license fee.


Feature Comparison
In order to offer a fair comparison, we have compiled a table of the most important features into ten categories: Sales, Customer Relationship Management, Accounting & Finance, Marketing, Warehouse Management, Manufacturing, Purchasing, Services & Projects, Human Resources and Usability & Productivity.
These categories encompass almost everything an SME might need to manage, develop, and evolve its business operations. The three products analyzed have extra third party apps, developed by partners. Microsoft Dynamics NAV, NetSuite and Odoo all have a public app store. As these modules usually come at an additional cost (licence fees and / or implementation service), we only reported features that are in the standard package within our analysis. We have also included a comprehensive list of the pricing conditions to better weigh the costs / benefits for each solution.
We will finalize this document with some observations on market trends and customer satisfaction as well as provide input on a more global solution for SME's.
Odoo Online
Odoo is an open source software that is available in three versions, two of which are local while the other is hosted in the cloud. More than 14,300 apps are available thanks to the multiple developments made by Odoo S.A. and its community.

" GROW YOUR BUSINESS "
The cloud-based Online Edition of Odoo ERP offers a customized solution
specifically designed to solve SME needs. In this highly modular solution, each business function is carried out by a dedicated app. This allows growing businesses to start with a few apps and to adopt more as their needs change and evolve.
For this comparison we've selected the cloud-hosted version, Odoo Online. The
unique part of this offer is that it's completely customizable. There are more than 30 certified apps that cover the vast majority of business cases, all of which connect to the same database on Odoo's servers. 


3.9+ million users
120+ countries
14,300 apps in Odoo Apps
950 partners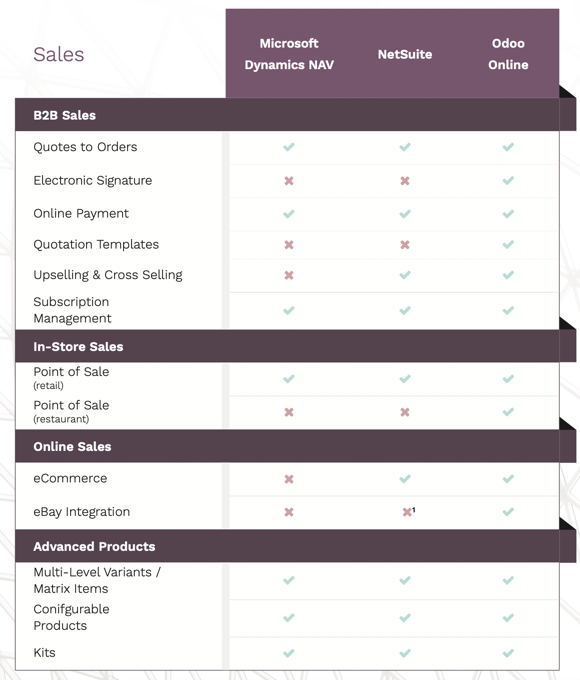 Kaynak: Odoo ERP Comparison